The Best Curved Treadmill for Home Workouts: A Comprehensive Guide
If you are looking to improve your home gym and if you have the space and a big budget for it, then a curved treadmill is another piece of equipment to go for. Here are the three best curved treadmills for home use, which will improve your brand persona (not many people have heard of or own one) while also providing you with more challenging workouts.
Curved treadmills are a relatively recent addition to the fitness equipment market and are not yet widely used, leading to some skepticism about their effectiveness compared to traditional equipment. While standard treadmills allow users to set a fixed speed and run at a constant pace, curved treadmills are self-powered and require the user to control their own speed. Keep reading to discover more.
Best Curved Treadmills for Home (Updated List)
| | | | |
| --- | --- | --- | --- |
| # | Preview | Product | Rating |
| 1 | | NOHrD Sprintbok Curved Manual Treadmill | Eye Catching |
| 2 | | IN10CT (Intensity) Health Runner Curved Manual Treadmill | Used by Professionals |
| 3 | | SB Fitness CT400 Curved Treadmill | Good Shock Absorption |
The Benefits of Using a Curved Treadmill for Your Workouts
If you are a person who likes to exercise and likes to try out new things, then the curved treadmill is one of them. It is still practically new in most parts of the world and you will rarely see it in the gym yet.
The advantages seen by using the curved treadmill compared to the standard ones are
Increased calorie burn, increased oxygen intake, and increased heart rate.
There is some electricity savings because it does not have a large motor to power.
Powered by human energy.
Better walk or run as it suits our human natural movement.
Your capability is the limit and not the machines. The more energy you put in, the faster the speed of the belt.
Least maintenance as it has fewer electronics boards which normally run the motors for speed and inclination.
Better reliability and longer service life.
Long distance runners benefit from the ability to simulate running on hills, terrains, and so on.
A Guide to Choosing the Perfect Curved Treadmill for Your Home Gym
Everyone has different preferences on what is important or not when deciding on gym equipment for the home, but I want to offer my opinion on the most important things that the curved treadmill for the home should have.
My suggestion is that before you go out there to get one, if possible, try one first. You might or might not like it. It is a waste if you have spent money and space getting one and you find out that it is not to your liking.
Budget
I will put finding a budget as one of the highest priorities, as the curved treadmills are still considered new in the market and thus will be more expensive compared to the standard treadmill. It will be difficult to find curved treadmill best prices in any of the stores yet.
It's easily between 3K and 10K on average.
Space
Considering you will be using it often, placing it in the right place in your home is going to be a challenge at first. You can get the footprints of each model from the specifications and measure one or two feet around it. This will give you some breathing space.
Some of the treadmills are easily movable and some are foldable. So some self-sacrificing to get the right model the first time is critical.
Make sure the curved treadmill you choose will fit comfortably in the space you have designated for it in your home.
Warranty
As curved treadmills use fewer electrical components like the motor, switching power supply, and control boards, the chances of the machine breaking down are minimized. Only the movable parts can break down, so the warranty and after-sales service need to be looked into.
Good instructions on servicing the machine with ease of getting spares will keep the machine running a lifetime. Either you or someone technical can easily help to change parts easily for a cost saving in the long run.
Reviews
To learn more about a piece of equipment, read about the experiences and challenges of others who have used it. Some of the treadmills above listed may not have enough reviews, but the brand and the manufacturer will help a lot in getting a good piece of equipment for your home.
Best Curved Treadmill Reviews for Home Gym
Below, we have carefully selected a list of the top curved treadmills available on the market, taking into consideration factors such as build quality, performance, features, customer reviews, and overall value for money.
Whether you are an avid runner or a fitness enthusiast looking to improve your cardiovascular health, a curved treadmill can be an excellent addition to your home gym.
You will have all the information you need to make an informed decision and choose the best curved treadmill that suits your fitness goals, available space, and budget.
Let's dive in and discover the top contenders that can take your home workouts to the next level.
1. NOHrD Sprintbok Curved Manual Treadmill (Eye Catching)
It's all wood and visually pleasing. Place it anywhere in your house and it will match any environment and, at the same time, provide the necessary workouts.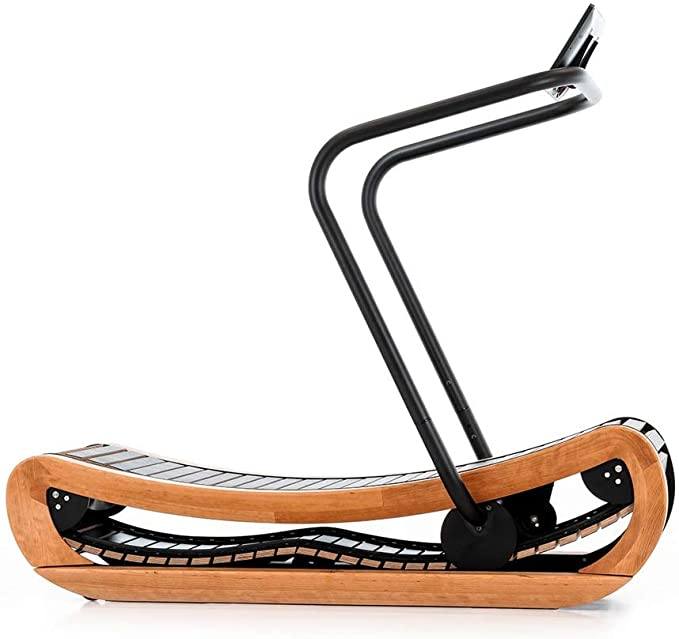 What I like about this model is that it is made of wood, solid hardwood. The NOHRD Sprintbok is the perfect addition to your home. It has a lovely, professional appearance thanks to its sleek, modern design and curved, robust frame.
With this machine, you will be able to workout in style and comfort, as it is made of one of the best designs and materials on the market today.
Below is a short video on the NOHrD Sprintbok.
---
---
Pros
Beautiful look that will suit any room.
Reduced noise due to noise absorption
Made of the highest quality material.
Maintenance free
A treadmill with everything you need
Cons
8k is a lot of money.
Frequent dusting (too beautiful to be covered with dust or scratches)
Whether you're seeking a high-intensity sprint or a leisurely jog, the NOHrD Sprintbok Curved Manual Treadmill offers a visually pleasing and versatile solution that seamlessly blends into your home environment while providing an effective and enjoyable exercise experience.
2. IN10CT (Intensity) Health Runner Curved Manual Treadmill (Used by Professionals)
Alternate between moderate and high-intensity workouts. The curved belt treadmill is used by many professional sports teams for sprint intervals.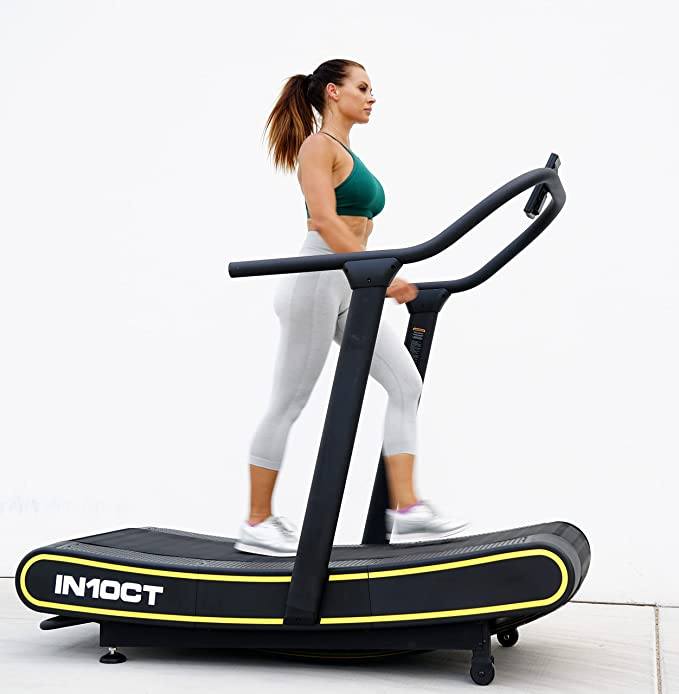 The IN10CT has the basic features that professionals need. It has performance monitoring features where he or she can monitor the progress of an athlete.
As a result, a trainer can create a program in which each athlete is evaluated based on his or her own abilities. He can run at his own pace. One good thing about the curved treadmill is that the user has to use his own legs to power the treadmill, whereas on the standard treadmill the user simply follows the programmed settings.
Easy transport wheels and a rear handle make it easy to move to any location within your home, clinic, gym, or rehab. Manual treadmills do not require an electrical outlet and can be stored anywhere.
Pros
Easily transportable
HIIT capability is used by professionals.
It is made of good quality material, thus durable.
Cons
It is expensive for those who do not have the budget, about 3.5k.
The IN10CT Health Runner Curved Manual Treadmill is a trusted choice for professionals looking to push their limits and achieve peak fitness performance. Whether you're a competitive athlete or a dedicated fitness enthusiast, this treadmill offers an unparalleled workout experience that can help you reach your fitness goals efficiently and effectively.
3. SB Fitness Equipment CT400 Curved Self-Generated Commercial Exercise Workout Treadmill (Best Shock Absorbent)
The track slats are ultra-thin and provide maximum shock absorption for your body, thereby promoting less stress on joints and greater muscle activation. This is good for people who are undergoing rehab.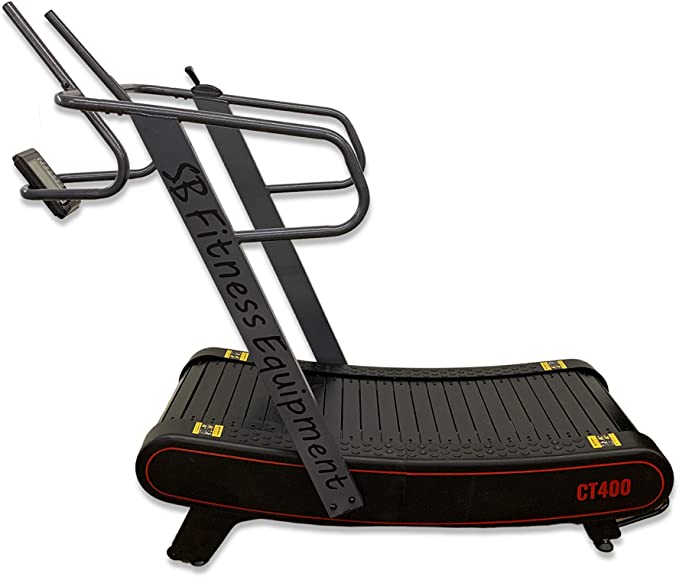 If you are having knee, ankle, hip, or back problems or are under rehabilitation, you will find the SB Fitness CT400 Curved Treadmill of much better help as it has track slats that offer maximum shock absorption. Walk, jog, or run at your own pace, as there is no maximum limit.
Pros
Minimal upkeep is required.
Reduced stress on your body.
Added resistance option to force you to work harder; HIIT capability.
It is made of good quality material, thus durable.
Cons
It is expensive for those who do not have the budget, about 2.5k.
If you are used to the regular treadmill, a sudden change to the curved treadmill is difficult.
If you are looking for a curved treadmill that excels in shock absorption, durability, and overall performance, the SB Fitness Equipment CT400 is an exceptional choice for both commercial and home gyms.
Get ready to elevate your workouts and achieve your fitness aspirations with this top-of-the-line exercise machine.
Curved Treadmill FAQ
Here are some commonly asked questions about curved treadmills:
How Do You Train on a Curved Treadmill?
If you are a regular user of the flat treadmill, then changing to the curved treadmill will require some getting used to. Like with everything new to learn, start slow and progress to the next level once you are confident. Just walk for awhile, progress to jogging, and once confident, you can start running.
Is the Curved Treadmill Better?
I would like to say that the curved treadmill is another addition to the variety of gym equipment. It all depends on how you prefer certain pieces of equipment over others and how hard you work on them. The harder you work on any tool, the more calories you burn.
Is It Harder to Run on a Curved Treadmill?
Curved treadmills are non-motorized. As such, in any manual situation, you have got to work harder to achieve the same assisted results. So if you work harder, you might burn more calories.
How Much Does a Curve Treadmill Cost?
You will not find a curved treadmill that is cheap or less than $1000 yet. There are a few factors involved here, the main being that it is still new, a few manufacturers and brands are out there, and the demand is still low as not many people have heard about the curved treadmill and how good it is. Currently, the cost of a curve treadmill ranges between $3,000 and $10,000.
Why Does a Curved Treadmill Burn More Calories?
Naturally, when you have to do something manually, it is harder than when you have assistance. There is no motor to drive the belt, so users must use their own muscles to run the belt. Starting, accelerating, to the peak, and braking are all done by our body movements on the belt.
So, you will burn more calories on a curved treadmill.
Which Is the Better Home Treadmill: Manual or Automatic?
This question can only be answered by an individual. It all boils down to preference. One will find the manual better than the automatic, and the other will not. Other decision factors like the cost, dimensions, features and others will play a heavy factor in this decision.
What Are the Benefits of Treadmill?
There are many benefits to using a treadmill, whether curved or standard. It is an easy way to lose weight and stay fit. It can help you with your exercise routine because you can set it to the intensity level you want and it can be used for various types of exercises like walking, jogging, running and more.
Disadvantages to Using a Treadmill
Treadmills may seem like the perfect solution for those who want to exercise at home, but they do come with some disadvantages. The cost of the machine can be expensive, and this is especially true if you are looking for a treadmill that has more features. They are not as versatile as other types of exercise equipment because they only allow you to walk or jog in one direction.
If you do walk or run outside your home, you are closer to nature.
So What is The Best Curved Treadmill for Home?
All three of the treadmills have all the benefits and features we require, but the additional standout with the NOHrD Sprintbok is the hardwood design and how well it will fit with my furniture.
Conclusion
Curved treadmills are a great addition to any home gym if you can afford them. By considering the above factors listed, we're confident that you will find the means of getting one to boost up your life.
So there you have it! My favorite curved treadmill is of course the hardwood treadmill NOHrD Sprintbok for it's diversity and overall quality. If you have any questions about any of the units listed here, please visit each of the Amazon listings as most questions are answered right on the product page.
Reference
There is a in-depth study on the curved treadmill at Academia.edu. Click below to read further.
The Effect of a Curved Non-Motorized treadmill on Running Gait Length, Imbalance and Step Angle.