BodyBoss Home Gym 2.0 Review: 100+ Exercises Made Simple!
Can you imagine having all of the gym machines you see in gyms in your home thanks to a simple simulation solution? In this BodyBoss Home Gym 2.0 Review, I'll go through this product and determine if it's worth getting one.
This article contains affiliate links. If you purchase anything after clicking an Affiliate Link, I may receive some compensation, with no additional cost to you. Read more here.
The BodyBoss 2.0 is a very simple system that comprises various resistance bands and handles and can simulate almost all the exercises you would do in a gym center and get the same results.
The best part is, you just need a tiny space within your home, garden, or anywhereelse you  can think of to get a complete workout.
What is BodyBoss Home Gym 2.0?

BodyBoss headquarters is in Cincinnati, Ohio, and one of the co-founders and CEOs is Ross Oltorik. He has this to say: "Our mission is to build an exceptional brand that brings affordable, safe, and high-quality resistance training products and training programs to people and fitness experts worldwide." And the company has more development coming up.
The company designs, manufactures, and distributes this portable gym equipment, exercise videos, how-to's, and much more.
The BodyBoss 2.0 Home Gym is a complete gym that you can carry around. I can not believe it, but with the complete system they have, we can simulate all the exercises done in the gym with this system. It is a total workout system that simulates the traditional gym equipment, thus saving you thousands of dollars.
The basic set comprises
A complete Instruction Manual with lots of visuals showing how to use the gym the correct way. It's so easy.
An accessory bag where you can insert the parts and readily carry them around.
Fold up Fit Base (can withstand up to 500 lbs. of force). We will do most of the exercises using this base.
The Collapsible Workout Bar.
A set of 2 handles.
A set of 2 Wrist/Ankle Straps for boxing practices. You will understand once you have the system in your hands.
A Set of 2 Custom Cloth Resistance Bands. You can add more once you need more challenges.
Door Anchor with Ring: You need to do added exercises on your upper body like pull-downs and flies.
Each resistance band provides roughly 30 pounds of resistance when it is full length. While shortening them with the help of the FitBase anchor points, you can get about 80 pounds of resistance per band. So you will have variable resistance which you can adjust to suit your needs.
I tried using an old used bicycle tire tube and did some exercise when I was young. Shortening or lengthening will give different resistance. But the only sad part is the tube does not last long with my kind of stress. It snapped.
What Exercises Can You Do On The BodyBoss 2.0 Home Gym?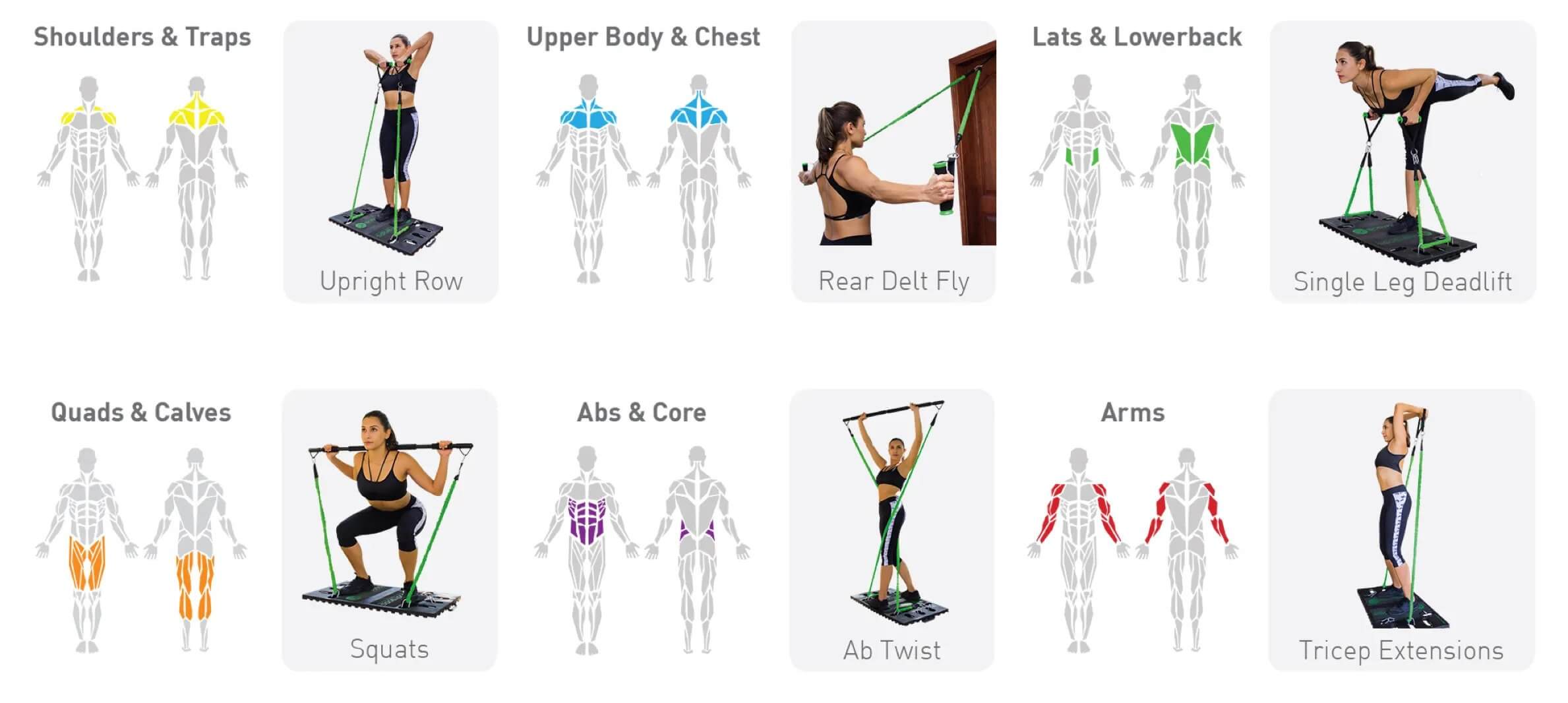 The design is so versatile that you can even design your own custom-fit exercises. As the exercises done on this system are resistance-based, I can do most of the exercises in a gym on this machine with some imagination.
From simulating a treadmill, elliptical, cycling, multi-gym machine workouts and much more, just to name a few: biceps and triceps, pulls and extensions, squats, deadlifts, leg curls and leg extensions, boxing practices, and many more.
There are over 100 exercises that can be worked-out on this system. In simple terms, it's a complete resistance training system that makes your workouts customized to your imagination.
And BodyBoss has live streams and repeated sessions you can follow without being bored. With these sessions, it will motivate you to continue moving without being bored.
You can watch the video to get a better picture of how each exercise is done and how it simulates gym exercises.
Will You Benefit From The BodyBoss 2.0 Home Gym?
We very well know that going to the gym is time-consuming and not cost-effective. For those enthusiasts who want to work out but cannot afford it, membership can cost a lot per year.
This equipment is cost-effective and almost everyone who wants to keep fit will enjoy this home gym. Whether you are just starting, kids or adults, people of any height, or you have worked out in a gym before, you will get true strength training and weight loss results from using the equipment.
Those who want to build muscles, those who want to build endurance or cardio, and those in sports will benefit most from this equipment. Even those who are under rehabilitation will strengthen themselves by working out on the bands.
You can set goals and freely concentrate on reaching those goals with no worries. You can work out on any parts of your body, strength training exercises, cardio with weight loss opportunities.
Unlike having one piece of equipment in your home, you have 'many' and you can imagine working out on each piece of gym equipment each week. You can shape any part of your body you want at a fraction of the cost and in a limited amount of space.
You have nothing to lose but lots to gain by having just this simple equipment. So the answer is a big Yes, you will enjoy this Home Gym with no doubt.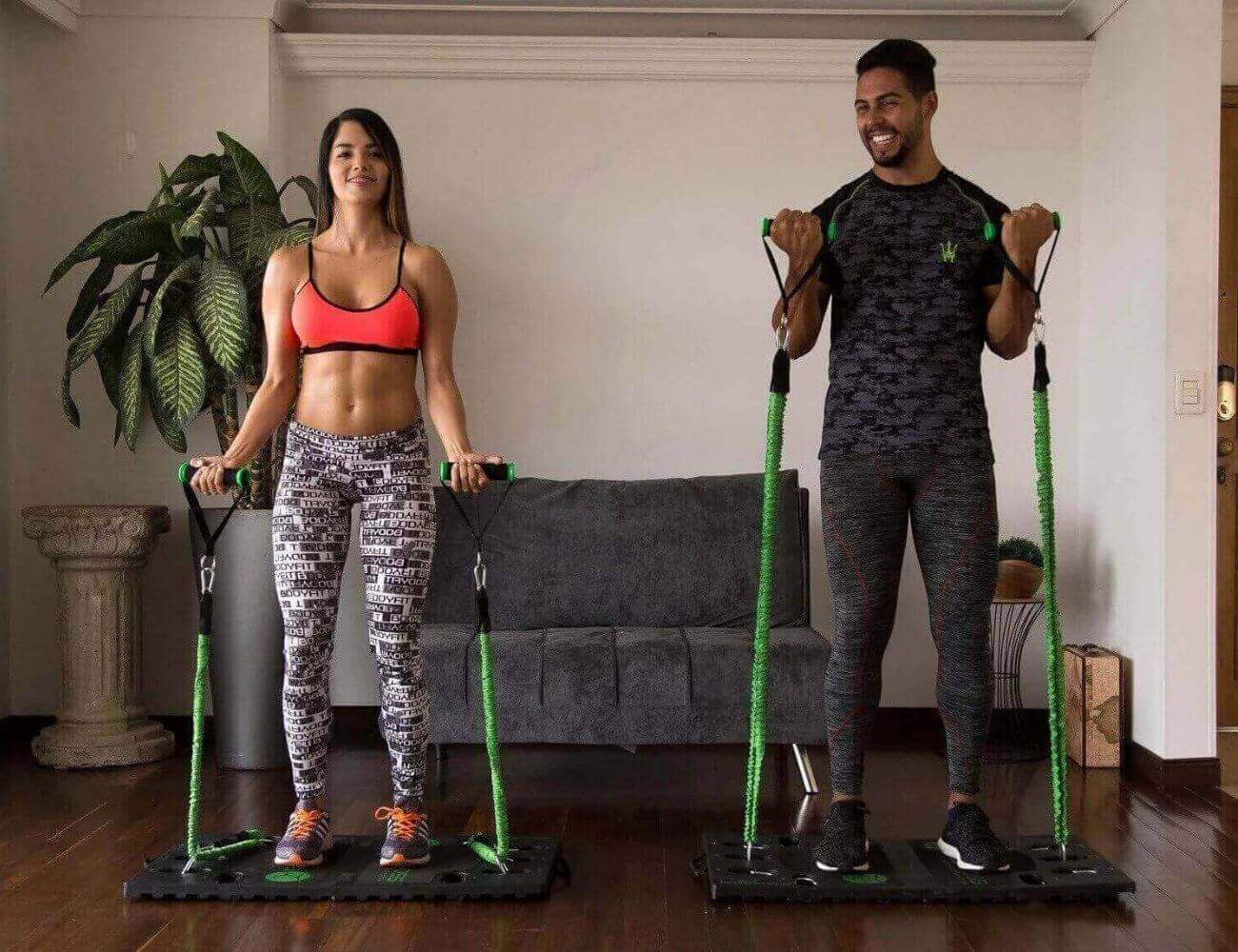 Is It Safe To Use The BodyBoss Home Gym 2.0?
The best part about this system is that, other than the base plate, there are few heavy or sharp-edged parts that could injure a person. Ha, even your floor is safe without worrying about dropping any kettle weights.
Some features of the system are as follows,
Soft Supportive Pads On The Base Plate: The foot Pads are so comfortable to stand on, thus protecting your joints.
Base Plate Non-Slip Rubber Spacers: The non-slip rubber spacers will prevent the base from slipping and protect your home floor from marks.
Product Specifications: When unfolded, the platform measures 34 inches x 20 inches x 1 inch, and when folded, it measures 17 inches x 20 inches x 2 inches.
The Workout Bar Length: 42 inches and is retractable.
The whole system's weight is only 15 pounds and easily carried around.
They withstand over 500 pounds of force when clipped on and off bands to the lab's roughly tested anchor points. And the bands will be easy on the skin because of their outer layer design.
Others before you have stressed out the system, so you have no worries. Exercise all you can with no worries.
Pros:
There are so many positive inputs on the design and usability of BodyBoss 2.0 and the results it delivers.
Total Workout System: That is the right word to use for this system. With just a few hooks and bands, you can simulate all the workouts done at a gym center. And the best part is, you can still enjoy the comfort of your home in a small space.
Added Motivation: With this interactive technology system, you'll have access to over 100 exercises, live trainers (small fees incurred), private classes, and ensure that it will motivate you at all times to keep moving.
Versatile: Easily folded for storage and portability, it is ready for action in minutes. Overall, I think the system, design, and construction are perfect.
Cons:
Extra Purchase: For extra challenge or not to have any downtime between exercises, I need to get extra bands, one or two handgrips, and maybe an extra bar. This way, you do need to hook and unhook between workouts, thus reducing cool down.
Heavy Users: Those who are frequent gym goers and heavy users will find working on the resistant bands not much of a challenge. They just need to feel the heavy stuff they have experienced before.
Too Complicated: When you first unpack the box received, it will overwhelm you with the various items and hooks, especially if you are new to all this. But once you get familiarized with the system, it's simple.
Watch the video below on unboxing and understanding the parts and the complete system.
Final Thoughts
Many do not know the advantages of this system as they do not advertise it well enough. Going to the gym or buying any equipment will be expensive and space-consuming.
We always start with the best intentions with excitement when we start something new, for example, an intention to workout. We join the gym membership, buy exercise equipment, new shoes, or get friends interested in joining, but most of us, when the initial motivation runs out, all the "new things" we purchased end up in storage and are rarely used afterward.
Just get one BodyBoss 2.0 Home Gym and you will not worry anymore about where to exercise. The system has lots of motivation, new guides with various easy-to-follow exercises, and certified trainers (small fees incurred) to boost you if you relax. You can follow along with 100's of live and recorded videos for guided exercises, so your hands are full for a long time.
Get more info and other reviews for satisfaction by clicking below.
Check Out BodyBoss 2.0 Home Gym Here.
But if you already have the BodyBoss 2.0 Home Gym and you feel like having more, Click Here to read on.
This article contains Affiliate Links. If you purchase anything after clicking an Affiliate Link, I may receive some compensation, with no additional cost to you. Read more here.